J. J. Keller & Associates Inc.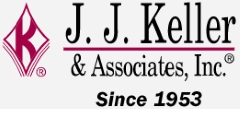 J. J. Keller & Associates Inc.
3003 Breezewood Lane
Neenah, WI 54957
Phone:
View Phone Number
Website:
www.jjkeller.com
E-Mail:

Forward to a Friend
Company Description:
J. J. Keller & Associates, Inc. is the nation's leading provider of regulatory, safety and compliance solutions. Organizations of all sizes rely on our expert insights to help create safe work environments and simplify the complexities of regulatory compliance. Our portfolio of solutions includes online management tools, publications, training, consulting and professional services.
Products/Services:

Flags / Signs / Placards
Protective Gear / Personal Safety
Consulting - Risk Management
Education / Training
Permit and Regulatory Services
Publications

Are you looking for more customized information on a product or service?