Erfurt Blasting Co Inc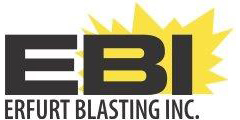 Erfurt Blasting Co Inc
2 Kim Cove
Round Rock, TX 78665
Phone:
View Phone Number
Website:
www.erfurtblasting.com
E-Mail:

Forward to a Friend
Company Description:
EBI is a professional drilling and blasting company founded in 1972. EBI's services include controlled blasting for rock excavation, such as Oil Field Pipeline Blasting, DOT highway road cuts, sitework, golf courses, quarries, and utility lines, etc. Explosives demolition includes bridge demolition, industrial structures and reinforced concrete, etc. EBI has completed thousands of successful projects and for this EBI has earned the reputation as first-class experts in the explosives field.
The company works with owners, contractors, developers, quarries, and homeowners on projects of all dimensions. EBI has made a commitment to safety, timely service and quality workmanship.
EBI has earned the reputation as first-class experts in our field and a stellar safety record. EBI's drilling and blasting personnel go through extensive training regarding safety. All of EBI's employees receive job specific training before going out into the field. Blasting personnel receive 16 hours of annual classroom training which includes ongoing updates in the explosive field and refresher training.
Products/Services:

Blasting Accessories
Blasting / Drilling Contractor
Construction Services
Drill Service
Explosive Demolition

Search www.erfurtblasting.com
Are you looking for more customized information on a product or service?