Dykon Explosive Demolition Corp.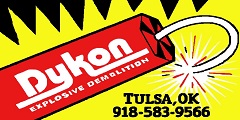 Dykon Explosive Demolition Corp.
15400 S Yale Ave.
Bixby, OK 74008
Phone:
View Phone Number
Fax:
View Fax Number
Website:
www.dykon-explosivedemolition.com
E-Mail:

Forward to a Friend
Company Description:
Dykon is recognized as a world-class demolition firm founded in 1975 with an operating philosophy of providing quality, reliability and personalized attention to the needs of its customers. Dykon's range of services includes controlled building implosions, chimneys, bridges, piers, industrial structures, reinforced concrete, vessel cleaning, rock blasting, and any phase of explosive technology. All of Dykon's services are provided by a highly skilled, dedicated and professional work force headed by the company's founder and president, James H. Redyke. Jim Redyke's 40-plus years of experience have taken him and Dykon around the world. With successful projects spread throughout the United States as well as Canada, Mexico, Saudi Arabia, Korea, South Africa, and Aruba, Dykon has earned the reputation as world class experts in our field.
Products/Services:

Consulting - Blast / Explosive
Explosive Demolition

Search www.dykon-explosivedemolition.com
Are you looking for more customized information on a product or service?