NOMIS Seismographs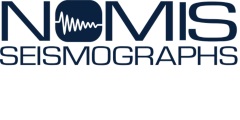 NOMIS Seismographs
3728 4th Ave South
Birmingham, AL 35222
Phone:
View Phone Number
Fax:
View Fax Number
Website:
www.nomis.com

Forward to a Friend
Company Description:
NOMIS Seismographs is recognized worldwide as a leading manufacturer of state-of-the-art seismic monitoring equipment for the construction, mining, quarrying and demolition industries. NOMIS is also well known and respected for our personalized, excellent customer service after the sale. In addition to manufacturing seismographs, NOMIS offers factory authorized parts, service, maintenance and calibration for all of its units performed by our knowledgeable and dedicated technicians. NOMIS Seismographs has been located in Birmingham, Alabama, USA for over 35 years.
Our global network of authorized distributors caters to sales and service when you need it. We have agents located throughout Europe, Asia, and the Far East or you can order directly from our manufacturing facility.
NOMIS Seismographs is a member of International Society of Explosive Engineers and adheres to the ISEE standards and specifications for blasting seismographs.
Product Description:
NOMIS recently introduced GPS as our newest add on module to the Mini-SuperGraph II. The GPS feature automates the location process and eliminates the need for additional equipment. The Mini-SuperGraph II utilizes features such as combo mode, USB connectivity, higher sample rates and expanded storage capability. Our units are very user friendly and come with all accessories for recording blasting, pile driving, heavy equipment vibrations, traffic or other vibrations you may want to record. They are modem compatible (cellular, GSM, satellite, etc.) for remote operation.
Get the most from data!
Whether you have a single seismograph or an entire network, SuperGraphics software provides you with the most intuitive, comprehensive set of features available to handle everything from simple reporting to complex analysis of your seismic and sound data. The latest version is included with every new NOMIS seismograph sold. SuperGraphics allows you to easily collect, analyze, summarize and organize data.
NOMIS now offers NOMIS Complete, a remote access option for a more hands free approach to your events and data. Contact us at support@nomis.com for more information.
Please visit our website at www.nomis.com. Detailed specifications for our seismographs, a list of global contacts, and forums for customers to discuss our equipment and software are offered online.
Contact our sales department at sales@nomis.com for all your seismic monitoring needs.
Product Information: