Tri-State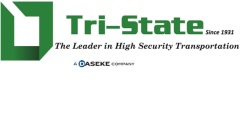 Tri-State
17235 N. 75th Ave.
Ste. D175
Glendale, AZ 85308
Phone:
View Phone Number
Website:
www.tristatesecured.com
E-Mail:

Forward to a Friend
Company Description:
Tri-State Motor Transit Co. (TSMT) is an asset-based carrier leading the industry in the SECURED shipment of your hazardous or sensitive material through our fleet of Vans, Flatbeds, Conestoga trailers, and Dromedary (DROM) trains. Our customers rely on Tri-State to deliver their products throughout the contiguous United States and Canada. Additionally, border-crossing services are provided along the U.S. / Mexico border, accompanied by energetic material handling and storage.
We have a proud history of providing secured transportation services to the following industries:
U.S. Department of Defense for Arms, Ammunition, and Explosives (AA&E)
U.S. Department of Energy and Radioactive Commercial Markets
Hazardous Waste Industry
Commercial Explosives Market
Defense Contractors
High Value & Sensitive Commodities
Products/Services:

Hazardous Materials Transportation
Shipping / Hauling

Search www.tristatesecured.com
Are you looking for more customized information on a product or service?