Thunderbird Mining Systems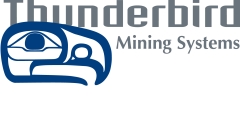 Thunderbird Mining Systems
2635 151st Place NE
Redmond, WA 98052
Phone:
View Phone Number
Fax:
View Fax Number
Website:
www.tbirdmining.com
E-Mail:

Forward to a Friend
Company Description:
PROVIDING INFORMATION TO MANAGE YOUR DRILLING & BLASTING
Thunderbird has been supplying drilling instrumentation to the mining industry for over 30 years. These systems are being utilized on blasthole drills in all types of open pit mines and quarries across the world, including the harshest conditions of tundra & desert. Our products have proven to have high paybacks & provide critical information to the drill operator, the blasting crew & mine management.
Benefits of the Thunderbird systems include: How Thunderbird's systems can aid your mine or quarry:
Lower costs by More Accurate Hole Depths - eliminate over or under drilling
Ensure proper burden and spacing through accurate Hole Locations without Surveying - improve blasting & fragmentation lowering overall mining costs
Optimize ROP for the Drilling Conditions - increased footage or meters
Identify Coal Seams or Hard/Soft Strata Zones - more accurate blasting & reduced explosive costs
Track Delays - maximize drilling time
Automate the Collection of Production & Drill Stem Data - eliminate the hand-written reports & provide more accurate data
Driller Feedback Tool – to optimize operating parameters
____________________ PRODUCTS ____________________
DEI PLUS
Thunderbird's DEI Plus is the most widely used drill monitor on the market with 1000s being sold. The DEI Plus uses display technology to provide an extremely rugged, sunlight-readable, crisp display. The system has built-in diagnostics & troubleshooting to provide ease of use & training.
- FEATURES
Drilling Screen - Provides the operator with Depth, Rate of Penetration, Target Depth, Drill Time & Estimated Time to Complete the Hole.
ROP Graph - ROP plot helps operator to optimize drilling, & identify the depth of hard or soft zones, or the location of coal seams.
Optional audible Alarm Package that includes a Pipe-in-Hole alarm - prevent drill component damage caused by tramming while drill pipe is still in the hole.
Production Statistics –Accumulates shift & overall production information including: Total Number of Holes, Total Depth, Total Drill Time, Average Hole Depth, Average ROP, & Average Hole Drilling Times
- OTHER DEI PLUS FEATURES/SCREENS INCLUDE
Target depth settings
Built-in calibration instruction
Diagnostics & troubleshooting
Help screens
DEI Xplorer
Thunderbird pioneered drill monitoring in the mining industry over 30 years ago and during that time we have learned a thing or two about drill monitoring. Based on feedback from customers around the globe regarding their experiences with various monitoring systems, we have launched a new system that takes drill monitoring to a completely new level. It is with great pleasure that we launched the DEI Xplorer MWD monitoring system in 2019. Designed from the bottom up for the rigors of mining, quarries, exploration, HDD, construction and water well drilling. The DEI Xplorer platform can also be readily upgraded to a Drill Navigation system for those mines that may require a navigation system at some point in the future.
- DEI Xplorer BENEFITS
Accurate digital data logging—eliminate manual drill reports
Downhole geology logging with StrataLogger option
Easily installed on virtually any blasthole or exploration drill
Portable mobile computer/operator display with 7th generation Intel processor
Best outdoor viewable display in its class
Designed and built for the harsh mining environment
12-month warranty, extendable with annual support agreement
Standard Report Package Available and Client can write queries to write their own custom reports
Upgradeable to NAV Xplorer Drill Guidance system
Numerous Options available to enhance system capabilities
- DATA LOGGING
Operator & Sampler ID numbers
Depth drilled, hole numbers, pattern number
Configurable to create digital for pre-shift inspections forms
Records drilling, tramming, delay codes & downtime events
Drill bits & drill stem components
Tracks over or under drilling
Captures Operator comments on the holes
Optional sensor values for calculating specific energy of drilling using Stratalogger
Down hole Stratalogger plots
Optional drill locations using LPGPS
NAV Xplorer
In conjunction with the launch of the DEI Xplorer platform, we are pleased to announce the release of the NAV Xplorer. The NAV Xplorer provides the drilling industry with an improved drill navigation guidance system over the renowned DEI+NAV. The totally new robust hardware and software of the NAV Xplorer promotes an enhanced user experience and allows for the adaptation of new and emerging technology that adds value to drilling operations.
- HIGH PRECISION GPS SYSTEM BENEFITS
Pattern created in office & sent to drill system where it is converted into a digital map
Driller uses digital pattern map to tram to the X-Y location
Zoom feature assists in accurately tramming to location
Drill to next bench elevation—Z--Target drill depth calculated for the operator
Monitors and logs over/under drilling vs planned depth
Logs 'As Drilled Hole' location for engineering and blast planning
Facilitates faster tramming between holes
Visibility (night or weather) not an issue
Eliminates pre and/or post surveying—reduce costs and improves safety
Programmable no entry boundaries or border areas
COMPLEMENTARY PRODUCTS AND SERVICES
- WI-FI NETWORKS FOR NICHE MARKETS
Thunderbird is pleased to be able to offer a Wi-Fi network solution for small mines or quarries that will extend an office communication system to a Wi-Fi radio network in the pit. This value-added service which enables communication with drill monitoring (MWD) systems includes the hardware, the installation, and the commissioning.
Enables the use of drill monitoring
Transfer data from office to the drill
Real time data transferred from drill to office
Enables Navigation
Provides Remote diagnostics
- GPS BASE STATION
A HPGPS base station solution is available from Thunderbird. Our base station utilizes Trimble components from the field proven Drill Guidance system. For some markets we can provide a mobile trailer equipped with a solar powered energy source.
Product Information: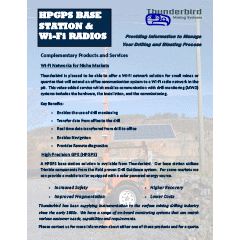 <---CLICK HERE TO VISIT OUR WEBSITE TO VIEW PRODUCT PHOTOS, BROCHURES & MANUALS AND TO FIND A DISTRIBUTOR IN YOUR AREA.
More Info
Products/Services:

Drill Monitors
GPS Systems
Measuring Equipment
Blast Design Software
Blast Report Software

Search www.tbirdmining.com
Are you looking for more customized information on a product or service?