CR Digital - Seattle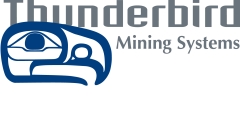 CR Digital - Seattle
2635 151st Place NE
Redmond, WA 98052-5522
Phone:
View Phone Number
Fax:
View Fax Number
Website:
www.crdigital.com
E-Mail:

Forward to a Friend
Company Description:
CR Digital (the technology division of CR) technology delivers optimization of surface mining operations, including blast hole drilling guidance and rock knowledge, excavator load and haul optimization and advanced GET sensing on production assets. Operator interfaces provide real-time feedback for improved operator decision making, and cloud-based analytics provide mine management with the actionable information to support continuous improvement and safety of surface mining operations.
In 2020, CR Digital acquired Thunderbird Mining Systems, a US based company that has been supplying drilling technology and systems to the mining industry for over 30 years.
CR Digital's Thunderbird portfolio provides optimization solutions for surface mining drill and blast operations. The Thunderbird Drill Efficiency Indicator (DEI+) and the Thunderbird 1110 Drill Optimization systems can be installed on new equipment or retrofitted to existing equipment. The DEI+ is a low-cost solution to provide basic drill performance for hole related data. The Thunderbird 1110 is a comprehensive optimization solution that includes drill performance data, high precision hole location data and rock hardness data. Both systems can be used across mining and quarrying operations where blasthole drilling is critical.
CR Digital's Thunderbird systems can be found on sites worldwide including Africa, Australia, India, Indonesia, Europe, North and South America.
Systems
THUNDERBIRD DEI+ DRILL EFFICIENCY INDICATOR
Thunderbird DEI+ drill efficiency indicator has proven itself in the field to be an extremely reliable and important tool for the driller. The DEI+ is the established standard, providing critical information to improve drilling depth accuracy and productivity
An intuitive user interface provide key metrics to the operator including: Target Depth, Depth Drilled, Depth to Target and Rate of Penetration. Built-in diagnostics enable quick operator calibration and in-field troubleshooting. The DEI+ also logs data for each operator, which can then be ported to local mine servers for analysis and drill performance tracking.
Benefits of the DEI+ include:
Minimized or eliminated over or under drilling
Real-time feedback directly to the operator, with reduced operational variances
Increased drill productivity
Easy to use, fast installation models to suit variety of drills
THUNDERBIRD 1110 DRILL OPTIMIZATION
The Thunderbird 1110 Drill Optimization sets a new industry standard for blasthole drill guidance and production monitoring. Thunderbird 1110 is available with the StrataSense to provide the real-time capture and display of rock hardness. Understanding rock hardness enables optimal blasthole explosive loading for better fragmentation and reduced shovel loading costs. Safety is also improved by reducing fly-rock and ground vibration.
The Thunderbird 1110 has been developed from the ground up by the team that pioneered the development of the first Measure While Drilling (MWD) and GPS navigation systems in the early 1980s. The latest system design incorporates a range of new technologies, and delivers many unique features that provide its users with an immediate return on their investment.
Key advantages of the Thunderbird 1110 system include:
Improved Drilling and Drill to Plan Accuracy
Improved Bench Conditions and Increased Bench Safety
Lower Blasting Costs using Rock Hardness Data
Analytic platform improving Rock Fragmentation and Shovel Efficiency
Product Information: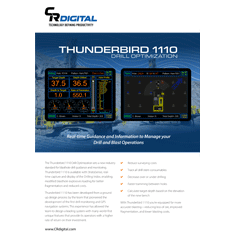 <---CLICK HERE TO VISIT OUR WEBSITE TO VIEW PRODUCT PHOTOS, BROCHURES & MANUALS AND TO FIND A DISTRIBUTOR IN YOUR AREA.
More Info
Products/Services:

Drill Monitors
GPS Systems
Measuring Equipment
Blast Design Software
Blast Report Software

Are you looking for more customized information on a product or service?