Reliable Tire Recycling - Blast Mats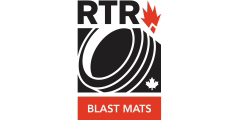 Reliable Tire Recycling - Blast Mats
1450 Dublin Avenue
Winnipeg, MB R3E 3K1
Phone:
View Phone Number
Fax:
View Fax Number
Website:
www.RTRrubber.ca
E-Mail:

Forward to a Friend
Company Description:
SUPPLIERS OF THE BEST BLASTING MATS IN THE INDUSTRY
HEAVY DUTY BLAST MATS MADE FROM TRUCK TIRE TREADS
Preserve your investment with our industry standard mat 10' x 15' x ¾" at 50 lbs/sq ft.
We are also happy to customize to suit your needs.
Will ship Worldwide! Call us for a quote. You will be glad you did!
BUILDING THE BEST BLAST MAT IN THE INDUSTRY FOR OVER 25 YEARS.
Products/Services:

Blasting Accessories
Blasting Mats
Blasting Mats
Protective Gear / Personal Safety

Are you looking for more customized information on a product or service?