LDE Corporation, Inc.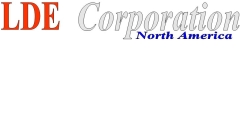 LDE Corporation, Inc.
PO Box 3876
Gillette, WY 82718
Phone:
View Phone Number
Fax:
View Fax Number
Website:
www.ldecorporation.com

Forward to a Friend
Company Description:
It is the aim of LDE Corporation to provide a higher quality blasting service than that provided by its competitors. This is achieved by innovation, commitment and understanding the requirements of modern blasting operations.
Cast Blasting – increased cast, less back-break and reduced cost.
Truck and Shovel Production Blasting – increased uniform fragmentation and better muckpile profile – reduced cost, and improved environmental effects.
Coal, Iron, Minerals Blasting – reduced cost.
LDE's Managing Director invested nineteen years of research and development in producing an explosives product which does not generate orange fume. This suite of products was invented through a personal necessity to offer clients' an environmentally sound explosive with impressive blasting results.
LDE Corporation knows that its explosives products are of great benefit, not only to the mining companies, but also to their surrounding local communities and the environment. Using LDE's hybrid explosives will effectively mitigate any undesirable effects on the environment, such as discharge of NOx (Nitrous Oxide) fume and greatly reduce greenhouse gas emissions, both of which are recognized as being significant issues associated with standard generic products.
Search www.ldecorporation.com